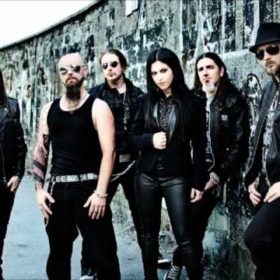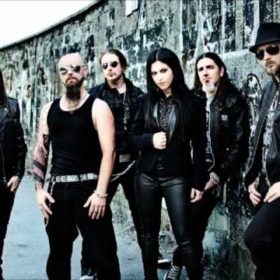 Lacuna Coil
Lacuna Coil are an Italian gothic metal band from Milan. Since their formation in 1994, the group has had two name changes, being previously known as Sleep of Right and Ethereal. Inspired by the combination of gothic imagery and music, the members have been known, musically, for composing mid-tempo songs consisting of prominent guitar lines and contrasting dual female/male vocal harmonies to help create a melodic, detached sound. Much of the band's recent material, however, sees a heavier and more down-tuned style, featuring a more distinct bass line and a higher mixing of the guitars within the songs. The band's 2012 release, Dark Adrenaline, peaked at number 15 on the Billboard 200. They have toured internationally and were nominated for a MTV Music Award.
Vocalist Andrea Ferro and bassist/composer Marco Coti Zelati formed Sleep of Right in Milan, Italy, 1994, and recruited Raffaele Zagaria on guitars, and Michaelangelo Algardi on the drums. After recording a song titled "Bleeding Souls" for the Noise of Bolgia compilation in 1995, Claudio Leo became the band's second guitarist, and Leonardo Forti replaced Michaelangelo on the drums after his departure. The band asked Cristina Scabbia, a friend, to sing background vocals briefly, which led to her officially joining the band. Soon after, the band changed their name to Ethereal, and signed to Century Media at the end of 1997. Finding that the name Ethereal was already taken by a Greek band, they changed their name to Lacuna Coil, meaning "empty spiral".
Lacuna Coil released a self-titled EP through Century Media in 1998, shortly after Raffael Zagaria, Claudio Leo, and Leonardo Forti departed. As a result, guitarist Cristiano Migliore and drummer Cristiano Mozzati were recruited officially. At this point, the band was touring with Moonspell after the release of the Lacuna Coil EP.
Genres: International Rock, Heavy Metal, Progressive Metal, Alternative Metal, Gothic Metal
Lacuna Coil albuns for download