Living Colour – Stain (1993)
Tracks
Other videos of this song:

Living Colour - Go Away (Live - the Paris Concert DVD)

Mix - Go Away

living colour - Go Away - Stain

Living Colour - Go Away (Live 2007)

Living Colour - Go Away (Buenos Aires, Argentina 11-26-1993)
About the Album
Stain is the third album by Living Colour. It was released on March 2, 1993, by Epic Records. It is the first album to feature bassist Doug Wimbish. Stain features a generally heavier sound with more pessimistic themes, the songs representing a range of genres. It reached No. 26 on the Billboard 200. Citing "musical differences"the band split up in January 1995.
The cover art shows a woman wearing a brank.
From the mid-1990s through the early 2010s, the album was out of print due to rights issues after a lawsuit from Jon Stainbrook of the band the Stain forced Sony to cease production of the album. In November 2013, the album was reissued by Music On CD and is also available as an MP3 download. In June 2018, the album was reissued on limited edition green vinyl.
Genres: Alternative Metal, Funk Rock, Hard Rock, International Rock
About the Artist/Band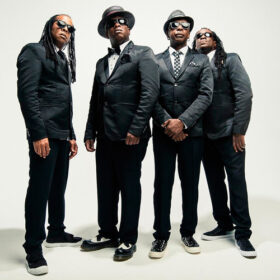 Living Colour is an American rock band from New York City, formed in 1984. The band currently consists of guitarist Vernon Reid, lead vocalist Corey Glover, drummer Will Calhoun and bassist Doug Wimbish, who replaced Muzz Skillings in 1992. more...
Other Living Colour discography albums for download