Living Colour – Collideøscope (2003)
Tracks
Living Colour - Song Without Sin (official video)
Other videos of this song:

Living Colour - Song Without Sin

Mix - Living Colour - Song Without Sin (official video)

Song Without Sin

Living Colour - Song Without Sin

Song without sin ( Living Colour guitar cover)
About the Album
Collideøscope is the fourth album by Living Colour. Released in 2003, it is the first studio album by the band in just under a decade. After they split in 1995, Living Colour returned in the middle of 2001 and began recording Collideøscope in late 2002. Similar to the previous effort, Stain, much of the album features aggressive lyrics, as many of the songs are about the September 11 attacks. It also contains cover versions of AC/DC's "Back in Black"and The Beatles' "Tomorrow Never Knows."While critically praised, Collideøscope is the band's first album that failed to chart.
A version of "Sacred Ground"previously appeared on the 1995 Pride compilation.
Genres: Alternative Metal, Heavy Metal, International Rock
About the Artist/Band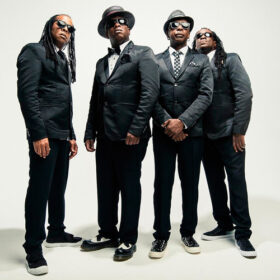 Living Colour is an American rock band from New York City, formed in 1984. The band currently consists of guitarist Vernon Reid, lead vocalist Corey Glover, drummer Will Calhoun and bassist Doug Wimbish, who replaced Muzz Skillings in 1992. more...
Other Living Colour discography albums for download