Living Colour – Everything Is Possible: The Very Best of Living Colour (2006)
Tracks
Living Colour - Cult Of Personality (Official Video)
Other videos of this song:

Living Colour - Cult of Personality (Lyrics)

Cult Of Personality (Re-Recorded / Remastered)

Living Colour - Cult Of Personality #Woodstock2016

Living Colour Cult Of Personality (HQ HD Audio)

(BETTER QUALITY!) Living Colour performing "Cult Of Personality" on Arsenio
2
Open Letter (To a Landlord)
14
Burning Of The Midnight Lamp
17
Love Rears It's Ugly Head - Soulpower Hip Hop Remix
About the Album
Everything Is Possible: The Very Best of Living Colour is a greatest hits compilation by Living Colour, released in 2006. The title is taken from a lyric in the song "Type."Everything is possible, but nothing is real.
Genres: Alternative Metal, Hard Rock, Heavy Metal, International Rock
About the Artist/Band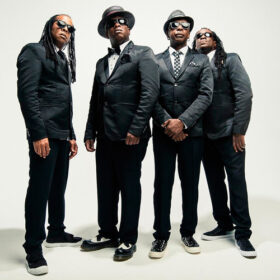 Living Colour is an American rock band from New York City, formed in 1984. The band currently consists of guitarist Vernon Reid, lead vocalist Corey Glover, drummer Will Calhoun and bassist Doug Wimbish, who replaced Muzz Skillings in 1992. more...
Other Living Colour discography albums for download