Goo Goo Dolls – Superstar Car Wash (1993)
Tracks
Other videos of this song:

Goo Goo Dolls - Fallin' Down [February 1994]

Goo Goo Dolls - Fallin' Down | Live @ The Metro (1993)

Mix - Fallin' Down

Goo Goo Dolls - Fallin' Down, Live in Houston 2018

Goo Goo Dolls - Fallin' Down, live at Roundhouse, London 2020
7
Another Second Time Around
About the Album
Superstar Car Wash is the fourth studio album by American rock band Goo Goo Dolls, released in February, 1993 on Warner Bros. John Rzeznik wrote the song "We Are the Normal"with his idol, The Replacements' singer Paul Westerberg. The two corresponded by mail but never sat in a studio together. The song "Fallin' Down"was featured in the 1993 Pauly Shore movie Son In Law. Also, the song "So Far Away"was originally written and recorded with the title "Dancing In Your Blood"; the song had the same basic structure, but different lyrics, more minimal instrumentation, and a slightly different melody.
Superstar Car Wash was an actual car washing business on William Street just outside the downtown region of Buffalo, the hometown of the band.
Genres: International Rock, Punk Rock
About the Artist/Band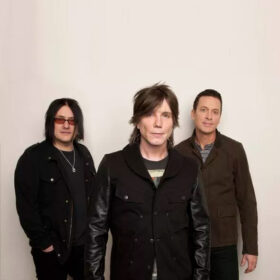 The Goo Goo Dolls are an American rock band formed in 1986 in Buffalo, New York, by guitarist/vocalist Johnny Rzeznik, bassist/vocalist Robby Takac, and drummer George Tutuska. Mike Malinin was the band's drummer from December 1994 until December more...
Other Goo Goo Dolls discography albums for download