Goo Goo Dolls – Dizzy Up the Girl (1998)
Tracks
Goo Goo Dolls - Dizzy [Official Music Video]
Other videos of this song:

The Goo Goo Dolls - Dizzy

The Goo Goo Dolls - Dizzy Up The Girl

Goo Goo Dolls - Dizzy (Live in Buffalo July 4th)

Dizzy - Goo Goo Dolls lyrics

Dizzy (Backyard BBQ satellite backhaul 9/6/1999) - Goo Goo Dolls
About the Album
Dizzy Up the Girl is the sixth studio album by American rock band the Goo Goo Dolls, released on September 22, 1998 through Warner Bros. Records. The album is often noted for being the album which propelled the Goo Goo Dolls into success, although they already enjoyed some recognition with the downbeat track "Name"in 1995. Dizzy features more upbeat compositions than they had previously recorded. It is also the band's first album to feature drummer Mike Malinin.
Genres: Alternative Rock, International Rock, Post-Grunge
About the Artist/Band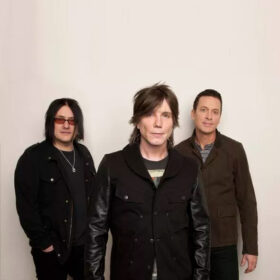 The Goo Goo Dolls are an American rock band formed in 1986 in Buffalo, New York, by guitarist/vocalist Johnny Rzeznik, bassist/vocalist Robby Takac, and drummer George Tutuska. Mike Malinin was the band's drummer from December 1994 until December more...
Other Goo Goo Dolls discography albums for download