Goo Goo Dolls – Magnetic (2013)
Tracks
Goo Goo Dolls - Rebel Beat [Official Music Video]
Other videos of this song:

Mix - Goo Goo Dolls - Rebel Beat [Official Music Video]

Goo Goo Dolls - Rebel Beat [Official Lyric Video]

Goo Goo Dolls "Rebel Beat" captured in The Live Room

Rebel Beat - Goo Goo Dolls (Lyrics)

Rebel Beat Lyrics Video
2
When the World Breaks Your Heart
About the Album
Magnetic is the tenth studio album by American rock band Goo Goo Dolls, released in the UK on June 10, 2013, and in the US on June 11, through Warner Bros. Records. The album is available on CD, Vinyl and as a digital download.
The recording process took place during the latter half of 2012 and into early 2013. Rzeznik thought of the album title during a phone conversation with his manager, who told Rzeznik to "think of a title for the record. Try to use one word."Magnetic was the first word that came to Rzeznik's mind. This is the last album to feature drummer Mike Malinin who left the band in December 2013.
Genres: International Rock, Pop Rock
About the Artist/Band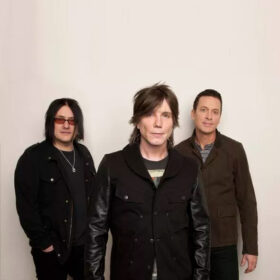 The Goo Goo Dolls are an American rock band formed in 1986 in Buffalo, New York, by guitarist/vocalist Johnny Rzeznik, bassist/vocalist Robby Takac, and drummer George Tutuska. Mike Malinin was the band's drummer from December 1994 until December more...
Other Goo Goo Dolls discography albums for download