Goo Goo Dolls – Something for the Rest of Us (2010)
Tracks
Sweetest Lie -Goo Goo Dolls
Other videos of this song:

Sweetest Lie

Sweetest lie-goo goo dolls lyrics

Goo Goo Dolls "Sweetest Lie" fan video!

Mix - Sweetest Lie -Goo Goo Dolls

Sweetest Lie
9
Something for the Rest of Us
About the Album
Something for the Rest of Us is the ninth studio album by American rock band Goo Goo Dolls. It was released on August 28, 2010 in Australia and on August 31 in North America through Warner Bros. Records. The recording process took place during the spring to fall of 2009 in the GCR Audio studio in Buffalo and Paramount Studios as well as "the Ark"in Los Angeles, with producer Tim Palmer. A single had been originally slated to be released in November 2009 with an album release in February 2010, but the band went back into the studio in January 2010. According to lead singer and guitarist John Rzeznik, this was done to make further improvements on what they had previously thought had been a finished record. Several producers were brought in to assist on the production process, including Butch Vig, John Fields, Paul David Hager and Rob Cavallo. Something for the Rest of Us is the third Goo Goo Dolls studio album that Cavallo has produced (Dizzy Up the Girl and Gutterflower). When asked about the length of time between albums, Rzeznik admitted it was a mix of songwriting issues as well as taking time out for personal reasons; "I wanted to really dig deep and there are a million songs I threw away, like, "Nah, it's not good enough. I wanna do something different. I wanna do something better, go deeper. I also wanted to have a life with my girlfriend for a while. I owed it to her to spend some time with her and be normal and be in one place. That was kind of important." In one of the Ustream sessions, Robby revealed that the album would have twelve songs and "Real"is not among them. In late May, John announced that "Home"would be the first single and was released onto radio and iTunes stores on June 8, 2010.
On July 13, 2010, it was announced on the band's fan club website, Inner Machine, that an EP will be available to purchase at all remaining tour dates. The EP is titled Waiting for the Rest of It and it contains 4 new songs from Something for the Rest of Us plus a live recording of "Broadway"from the Something for the Rest of Us Tour.
Genres: Alternative Rock, International Rock
About the Artist/Band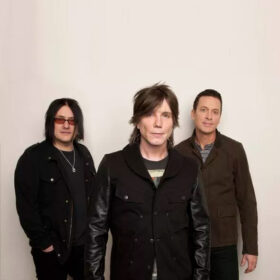 The Goo Goo Dolls are an American rock band formed in 1986 in Buffalo, New York, by guitarist/vocalist Johnny Rzeznik, bassist/vocalist Robby Takac, and drummer George Tutuska. Mike Malinin was the band's drummer from December 1994 until December more...
Other Goo Goo Dolls discography albums for download