Goo Goo Dolls – Greatest Hits Volume One: The Singles (2007)
Tracks
Goo Goo Dolls - Let Love In [Official Music Video]
Other videos of this song:

Let Love In

Goo Goo Dolls Let Love In Full Album

Mix - Goo Goo Dolls - Let Love In [Official Music Video]

Goo Goo Dolls- Let Love In lyrics

Goo Goo Dolls - 16 - Let Love In - Live at Red Rocks
About the Album
Greatest Hits Volume One: The Singles is a greatest hits album by American rock band Goo Goo Dolls. It contains every hit single from Dizzy up the Girl to Let Love In, a newly recorded track, "Before It's Too Late", from the Transformers motion picture and a newly recorded version of their first hit single, "Name". The album was released on November 13, 2007.
The album marks a milestone for the band. It is their first greatest hits album, and at the time of its release, the band's two remaining founders John Rzeznik and Robby Takac had been together for 21 years. The follow-up compilation, Vol.2, was released on August 19, 2008, consisting of rarities, B-sides, covers and a DVD of music videos and live performances.
Volume One debuted at number 33 on the U.S. Billboard 200 chart, selling about 33,000 copies in its first week.
Genres: Alternative Rock, International Rock, Pop Rock
About the Artist/Band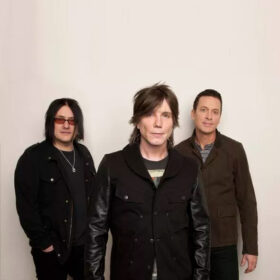 The Goo Goo Dolls are an American rock band formed in 1986 in Buffalo, New York, by guitarist/vocalist Johnny Rzeznik, bassist/vocalist Robby Takac, and drummer George Tutuska. Mike Malinin was the band's drummer from December 1994 until December more...
Other Goo Goo Dolls discography albums for download