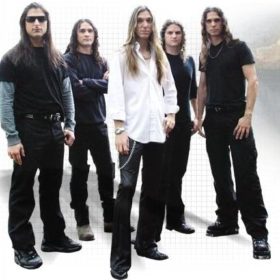 Angra
Angra is a Brazilian metal band formed in 1991 that has gone through some line-up changes since its foundation. They have released eight regular studio albums, five EPs and three live CD/DVDs to date. Led by Rafael Bittencourt, the band has gained a
more...
Angra is a Brazilian metal band formed in 1991 that has gone through some line-up changes since its foundation. They have released eight regular studio albums, five EPs and three live CD/DVDs to date. Led by Rafael Bittencourt, the band has gained a degree of popularity in Japan and Europe.
Angra was formed in November 1991 by Santa Marcelina Music College students vocalist Andre Matos and guitarists Rafael Bittencourt and André Linhares. They were joined by Bittencourt's former bandmate Marcos Antunes (drums) and bassist Luís Mariutti (ex-Firebox).
This line-up composed a number of the earliest songs, with Rafael Bittencourt and Andre Matos emerging as the main songwriters. Two of the first songs written were "Time" and "Angels Cry", which both featured on the band's first album. The song "Queen of the Night", composed by Matos and Bittencourt, was originally titled "Rainha" ("Queen") and had been one of the songs from Bittencourt and Antunes previous band. The song "Carry On" was composed by Andre Matos and brought to the band. In the beginning of 1992, André Linhares was replaced by André Hernandes. His stay was equally brief and Kiko Loureiro joined the band in late 1992. It was during Hernandes' time in the band that the song "Evil Warning" was written. Finally they added "Reaching Horizons" by Bittencourt. These six songs resulted in a demo-tape Reaching Horizons that was released in 1993 through Limb Music in Germany.
Angra discography for download