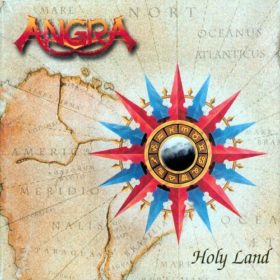 Angra – Holy Land (1996)
Tracks
Description
Artist
To listen to a song, click the "Play" button.
Crossing
Nothing to Say
Silence and Distance
Carolina IV
Holy Land
The Shaman
Make Believe
Z.I.T.O.
Deep Blue
Lullaby for Lucifer
Holy Land is a 1996 concept album by Brazilian metal band Angra. Its theme is centered on the Brazilian land by the time it was discovered in the 16th century, as depicted in the art surrounding the album release. Once fully opened, the cover illustration turns out to be an old 15th-century map. Title track "Holy Land" contains many indigenous and folkloric influences taken from Brazilian music, but also includes classical arrangements symbolizing Europe at the time.
The opening track "Crossing" features a rendition of O Crux Ave by Giovanni Pierluigi da Palestrina. The following songs deal with life in the "holy land" prior to its colonization by the Portuguese and subsequent changes Brazil underwent upon their arrival.
According to drummer Ricardo Confessori, the track "Nothing to Say" was developed around a drum riff he created around 1994 at a small rural property owned by guitarist Rafael Bittencourt. His band mates heard it and soon joined in to create the rest of the song, including the single-note opening riff.
Angra is a Brazilian metal band formed in 1991 that has gone through some line-up changes since its foundation. They have released eight regular studio albums, five EPs and three live CD/DVDs to date. Led by Rafael Bittencourt, the band has gained a more...
Genres: Brazilian Rock, Power Metal
Also download other albums from Angra