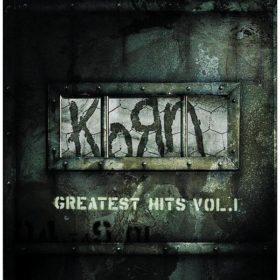 Korn – Greatest Hits, Vol. 1 (2004)
Tracks
Description
Artist
To listen to a song, click the "Play" button.
Word Up!
Another Brick In The Wall (Parts 1, 2, 3)
Y'all Want A Single
Right Now
Did My Time
Alone I Break
Here To Stay
Trash
Somebody Someone
Make Me Bad
Falling Away From Me
Got The Life
Freak On A Leash
Twist
A.D.I.D.A.S.
Clown
Shoots And Ladders
Blind
Freak On A Leash (Dante Ross Mix)
Greatest Hits, Vol. 1 is a greatest hits compilation released in October 2004 by American rock band Korn. The album features select tracks from their first six studio albums presented in reverse chronological order. There are two previously unreleased songs on the compilation: a cover of Cameo's "Word Up!", and a compilation of all three parts of Pink Floyd's "Another Brick in the Wall" and "Goodbye Cruel World". These were the final songs recorded with former guitarist Brian Welch, who left the band shortly after the album's release, until his return in 2013.
Greatest Hits, Vol. 1 debuted and peaked at number four on the Billboard 200, achieving a Platinum certification by the RIAA. For unspecified reasons Korn left off three of their hits, "Thoughtless", "No Place to Hide" and "Good God" but included songs "Trash" and "Twist" on the album, though neither were released as singles.
Korn (stylized as KoЯn) is an American nu metal band from Bakersfield, California, formed in 1993. The band's current lineup includes founding members James "Munky" Shaffer (rhythm guitar), Reginald "Fieldy" Arvizu (bass), Brian "Head" Welch (lead more...
Genres: Alternative Metal, Nu Metal
Also download other albums from Korn