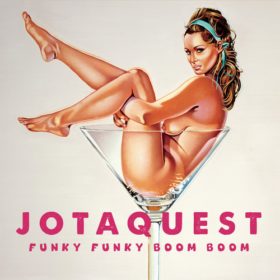 Jota Quest – Funky Funky Boom Boom (2013)
Tracks
Description
Artist
To listen to a song, click the "Play" button.
Entre Sem Bater
Ela é do Rio
Mandou Bem
Um Tempo de Paz
Pretty Baby
Reggae Town
Waiting For You (Shine On, Shine On)
Jota Quest Convidou
É de Coração
Imperfeito
Dentro de um Abraço
Toxina Voyeur
Sem Mistério
Realinhar
Waiting For You (Party On)
Funky Funky Boom Boom is the seventh studio album by Brazilian band Jota Quest, released on November 5, 2013 by Sony Music.
Jota Quest is a Brazilian pop rock band. The band was founded in 1993, in Belo Horizonte, Minas Gerais as J. Quest, but due to trademark issues with Hanna-Barbera, they renamed themselves Jota Quest (jota being the Portuguese name for the letter more...
Genres: Brazilian Rock, Pop Rock
Also download other albums from Jota Quest