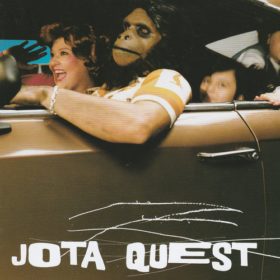 Jota Quest – De Volta Ao Planeta (1998)
Tracks
Description
Artist
To listen to a song, click the "Play" button.
De Volta Ao Planeta
Sempre Assim
Tudo É Você
Fácil
35
Qualquer Dia Desses
Tão Bem
Nêga da Hora
O Vento
Loucas Tardes De Domingo
De Volta Ao Planeta (Freak Funk Mix)
De Volta Ao Planeta is the second album by Minas Gerais band Jota Quest, released on January 6, 1998 by Sony Music/Chaos. It is the band's most successful studio album, having double platinum certification (500,000 units sold). Its title track and part of the booklet is inspired by the Planet of the Apes series.
Jota Quest is a Brazilian pop rock band. The band was founded in 1993, in Belo Horizonte, Minas Gerais as J. Quest, but due to trademark issues with Hanna-Barbera, they renamed themselves Jota Quest (jota being the Portuguese name for the letter more...
Genres: Brazilian Rock, Pop Rock
Also download other albums from Jota Quest