Depeche Mode – Sounds of the Universe (2009)
Tracks
Other videos of this song:

Depeche Mode - in chains - live 1080p

In Chains (Live In Barcelona)

In Chains

In Chains (Alan Wilder Remix)

In Chains (Demo Version)
11
Miles Away / The Truth Is
About the Album
Sounds of the Universe is the twelfth studio album by English electronic music band Depeche Mode, released on 17 April 2009 by Mute Records. It was supported by the 2009–10 concert tour Tour of the Universe. Three singles were released from the album; "Wrong", "Peace", and a double A-side of "Fragile Tension" and "Hole to Feed". "Perfect" was also released in the US as a promotional single.
As with the previous album, Playing the Angel, Dave Gahan has once again written three songs with Christian Eigner and Andrew Phillpott: "Hole to Feed", "Come Back" and "Miles Away/The Truth Is". "Spacewalker" and the bonus track "Esque" are instrumentals. Martin Gore shares lead singing duties with Gahan on "In Chains", "Peace" and "Little Soul", he sings the lead of "Jezebel" and the B-side "The Sun and the Moon and the Stars" on the second disc of the deluxe box set. The B-side "Oh Well" is the first track ever to be co-written by Gore and Gahan. The final track "Corrupt" is followed by a short hidden instrumental version of the song "Wrong".
The album was released by Capitol Records in the United States and by EMI in Canada and Mexico, marking the first time in the band's catalog that saw distribution from EMI within North America, where previous albums were released by Sire Records and Reprise Records, a division of Warner Music Group.
Genres: Alternative Rock, International Rock
About the Artist/Band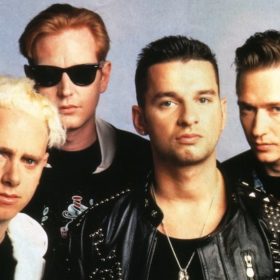 Depeche Mode are an English electronic band formed in Basildon, Essex in 1980. The group consists of founders Dave Gahan (lead vocals), Martin Gore (guitar, keyboards, vocals), and Andy Fletcher (keyboards). Depeche Mode released their debut album more...
Other Depeche Mode discography albums for download