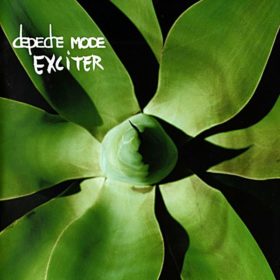 Depeche Mode – Exciter (2001)
Tracks
Description
Artist
To listen to a song, click the "Play" button.
Dream On
Shine
The Sweetest Condition
When the Body Speaks
Dead of Night
Lovetheme
Freelove
Comatose
I Feel You
Breathe
Easy Tiger
I Am You
Goodnight Lovers
Exciter is the tenth studio album by the English electronic music band Depeche Mode, released in the United Kingdom on 14 May 2001 by Mute Records and in the United States on 15 May by Reprise Records. The album was produced by Mark Bell of Björk and LFO fame. The album also launched the Exciter Tour, one of the band's most successful tours.
Exciter debuted at number nine on the UK Albums Chart and at number eight on the Billboard 200, selling 115,000 copies in its first week in the US. It is the only Depeche Mode album to debut higher in the US than in the UK. As of April 2006, Exciter had sold more than 426,000 copies in the US, and was certified Gold by the Recording Industry Association of America (RIAA). The album was also certified Gold in Canada for shipments of 50,000 units. The remastered album was released on "deluxe" vinyl 30 March 2007 in Germany and 1 October 2007 internationally.
The plant that appears on the cover is the Agave attenuata, a species of agave sometimes known as the "lion's tail", "swan's neck," or "foxtail" for its development of a curved stem, unusual among agaves. It is used to produce mezcal.
Depeche Mode are an English electronic band formed in Basildon, Essex in 1980. The group consists of founders Dave Gahan (lead vocals), Martin Gore (guitar, keyboards, vocals), and Andy Fletcher (keyboards). Depeche Mode released their debut album more...
Genres: Alternative Rock, International Rock
Also download other albums from Depeche Mode