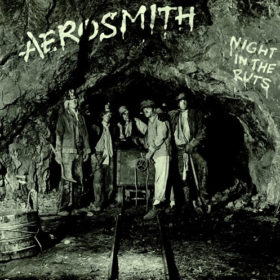 Aerosmith – Night In The Ruts (1979)
Tracks
Description
Artist
To listen to a song, click the "Play" button.
No Surprize
Chiquita
Remember (Walking in the Sand)
Cheese Cake
Three Mile Smile
Reefer Head Woman
Bone to Bone (Coney Island White Fish Boy)
Think About It
Mia
Night in the Ruts is the sixth studio album by American rock band Aerosmith, released on November 1, 1979, by Columbia Records. Guitarist Joe Perry left the band midway through its recording. The album was initially produced at the band's Warehouse rehearsal space by Jack Douglas, who had produced Aerosmith's previous four albums, but later Columbia Records brought in Gary Lyons to replace Douglas as the producer.
Aerosmith is an American rock band, sometimes referred to as "the Bad Boys from Boston" and "America's Greatest Rock and Roll Band". Their style, which is rooted in blues-based hard rock, has come to also incorporate elements of pop, heavy more...
Genres: Hard Rock, International Rock
Also download other albums from Aerosmith