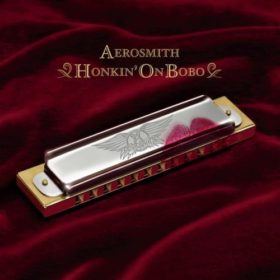 Aerosmith – Honkin' on Bobo (2004)
Tracks
Description
Artist
To listen to a song, click the "Play" button.
Road Runner
Shame, Shame, Shame
Eyesight to the Blind
Baby, Please Don't Go
Never Loved a Girl
Back Back Train
You Gotta Move
The Grind
I'm Ready
Temperature
Stop Messin' Around
Jesus Is on the Main Line
Honkin' on Bobo is the 14th studio album by American rock band Aerosmith, released on March 30, 2004 by Columbia Records.
The album includes 11 covers of blues songs from the 1950s and 1960s, with one new song, "The Grind". The album pays tribute to Aerosmith's earliest influences and showcases a rawer sound, reminiscent of their 1970s work, when compared to their more recent commercial efforts. Honkin' on Bobo was produced by Jack Douglas, who was Aerosmith's producer on a vast majority of their 1970s' output.
The album sold over 160,000 copies in its first week, reaching number five on the Billboard 200. Honkin' on Bobo was certified gold by the Recording Industry Association of America on May 11, 2004.
Aerosmith is an American rock band, sometimes referred to as "the Bad Boys from Boston" and "America's Greatest Rock and Roll Band". Their style, which is rooted in blues-based hard rock, has come to also incorporate elements of pop, heavy more...
Genres: Hard Rock, International Rock
Also download other albums from Aerosmith