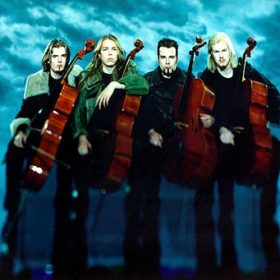 Apocalyptica
Apocalyptica is a Finnish cello metal band from Helsinki, Finland, formed in 1993. The band is composed of classically trained cellists Eicca Toppinen, Paavo Lötjönen, and Perttu Kivilaakso (all three of whom are graduates of the Sibelius Academy
more...
Apocalyptica is a Finnish cello metal band from Helsinki, Finland, formed in 1993. The band is composed of classically trained cellists Eicca Toppinen, Paavo Lötjönen, and Perttu Kivilaakso (all three of whom are graduates of the Sibelius Academy in Helsinki), drummer Mikko Sirén, and vocalist Franky Perez. Originally a Metallica classical tribute band, the band eventually adopted a neoclassical metal style without the use of conventional guitars. They have sold over four million albums to date.
Apocalyptica was formed in 1993 when four cellists, Eicca Toppinen, Paavo Lötjönen, Max Lilja, and Antero Manninen gathered to play Metallica covers at Sibelius Academy. In 1996, Apocalyptica released their debut studio album, Plays Metallica by Four Cellos, which consisted solely of Metallica covers played on cellos. They were later featured on two songs on the Waltari album Space Avenue in 1997.[better source needed] In 1998, Apocalyptica released their second studio album, Inquisition Symphony, which was produced by Hiili Hiilesmaa. Inquisition Symphony once again contained covers of Metallica, but also contained covers of Faith No More, Sepultura, and Pantera. For this album the band also decided to include three original songs written by Eicca Toppinen.Apocalyptica at 2005's Wacken Open Air.
In 1999, Antero Manninen left the group, and was replaced by Perttu Kivilaakso who had appeared in the line-up already in 1995. In 2000, Apocalyptica released their third studio album, Cult, which featured 10 original songs, and 3 covers. Soon after the recording of Cult, the first Apocalyptica track featuring vocals was released, "Path Vol. 2". In 2002, Max Lilja left the group and joined Hevein, leaving Apocalyptica with only three members.
Apocalyptica discography for download