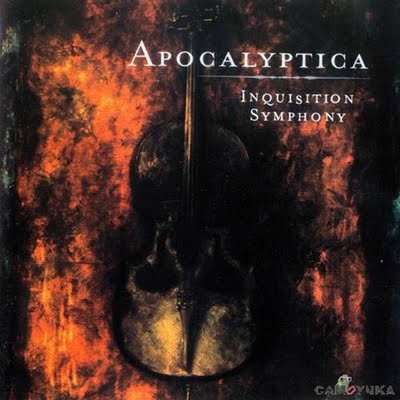 Apocalyptica – Inquisition Symphony (1998)
Tracks
Description
Artist
To listen to a song, click the "Play" button.
Harmageddon
From Out Of Nowhere
For Whom The Bell Tolls
Nothing Else Matters
Refuse/Resist
M. B.
Inquisition Symphony
Fade To Black
Domination
Toreador
One
Inquisition Symphony is the second studio album by the Finnish metal band Apocalyptica. The album branches from their previous effort, containing only four Metallica covers. The remainder of the compositions are by Faith No More, Pantera, and Sepultura, as well as three originals by Apocalyptica bandleader Eicca Toppinen. Max Lilja did the arrangements for "One". "Toreador II"is the sequel from the original song on this album, onto Reflections.
Apocalyptica is a Finnish cello metal band from Helsinki, Finland, formed in 1993. The band is composed of classically trained cellists Eicca Toppinen, Paavo Lötjönen, and Perttu Kivilaakso (all three of whom are graduates of the Sibelius Academy more...
Genres: International Rock, Symphonic Metal
Also download other albums from Apocalyptica