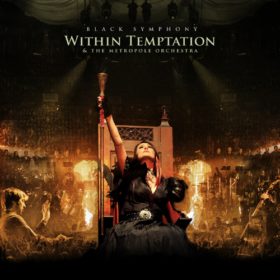 Within Temptation – Black Symphony (2008)
Tracks
Description
Artist
To listen to a song, click the "Play" button.
Ouverture
Jillian (I'd Give my Heart)
The Howling
Stand My Ground
The Cross
What Have You Done
Hand of Sorrow
The Heart of Everything
Forgiven
Somewhere
The Swan Song
Memories
Our Solemn Hour
The Other Half (Of Me)
Frozen
The Promise
Angels
Mother Earth
The Truth Beneath the Rose
Deceiver of Fools
All I Need
Ice Queen
Jane Doe - ecxl. I-tunes Bonustrack
Black Symphony is a live album, DVD and Blu-ray Disc from Dutch symphonic metal band Within Temptation. It was released worldwide on September 22–24, 2008 and is available on 2-disc DVD, 2-disc CD, and Blu-ray. Sony Poland announced this item to be released on 3LP. Release is due Friday 28 December 2018.
Within Temptation is a Dutch symphonic metal band founded in April 1996 by vocalist Sharon den Adel and guitarist Robert Westerholt. They have always been classified by critics as gothic metal, although the "gothic" influence varies with each album. more...
Genres: International Rock, Symphonic Metal