Within Temptation – An Acoustic Night at the Theatre (2009)
Tracks
Within Temptation - Towards The End
Other videos of this song:

Within Temptation "Towards The End" [The Silence Force Tour]

Mix - Within Temptation - Towards The End

Within Temptation - Towards The End (The Silent Force Tour)

The Passing Of The Elves - Towards The End

Within Temptation - Towards The End // An Acoustic Night At The Theatre [HQ]
6
Somewhere (feat. Anneke van Giersbergen)
9
What Have You Done (feat. Keith Caputo)
12
Utopia (feat. Chris Jones)
About the Album
An Acoustic Night at the Theatre is the second live album by Dutch symphonic metal band Within Temptation that has been released in October–November 2009. The album is made up of the acoustic set at Eindhoven's Muziekcentrum Frits Philips, from the band's Theatre Tour, on November 30, 2008. It also includes a new studio recording, "Utopia", a duet with Chris Jones, which was released as a single on October 23, 2009. Drummer Mike Coolen performed on the acoustic set: he later became the band's full-time drummer, replacing Stephen van Haestregt who moved on to new band My Favorite Scar.
Genres: International Rock, Symphonic Metal
About the Artist/Band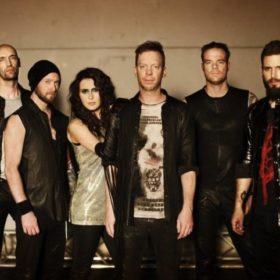 Within Temptation is a Dutch symphonic metal band founded in April 1996 by vocalist Sharon den Adel and guitarist Robert Westerholt. They have always been classified by critics as gothic metal, although the "gothic" influence varies with each album. more...
Other Within Temptation discography albums for download