Within Temptation – Enter (1997)
Tracks
Within Temptation - Restless
Other videos of this song:

Within Temptation-Restless(with lyrics)

Within Temptation - Restless live Lowlands (2002)

Within Temptation - Restless - Live Dynamo Open Air 1998 (Remastered)

Within Temptation Black Symphony - Restless (Live@Eindhoven)

Within Temptation - Enter album
About the Album
Enter is the debut studio album by Dutch symphonic/gothic metal band Within Temptation, released by DSFA Records in 1997. The album prominently features lead singer Sharon den Adel's vocals as well as guitarist Robert Westerholt's gruff death metal growls. Lex Vogelaar, founder of the Dutch death metal band Orphanage, supplied the guitar parts for "Pearls of Light", as well as producing the album, and Orphanage vocalist George Oosthoek performed some of the growls on "Deep Within".
The album's style "sits between gothic metal and doom" and is very instrumental compared to the band's later works. Many of the songs have longer instrumental sections and fewer lyrics. On several songs Westerholt provides growling (in contrast to later albums on which it is rarely used). The lyrics focus on darkness, ghosts, and wars instead of the more common fantasy, love, and nature-centred lyrics found on later albums.
Genres: Doom Metal, Gothic Metal, International Rock
About the Artist/Band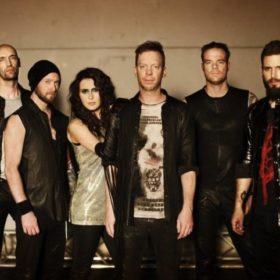 Within Temptation is a Dutch symphonic metal band founded in April 1996 by vocalist Sharon den Adel and guitarist Robert Westerholt. They have always been classified by critics as gothic metal, although the "gothic" influence varies with each album. more...
Other Within Temptation discography albums for download