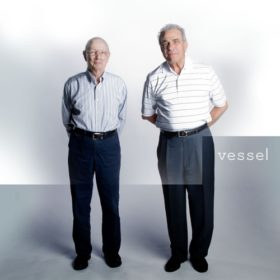 Twenty One Pilots – Vessel (2013)
Tracks
Description
Artist
To listen to a song, click the "Play" button.
Ode to Sleep
Holding on to You
Migraine
House of Gold
Car Radio
Semi-Automatic
Screen
The Run and Go
Fake You Out
Guns for Hands
Trees
Truce
Vessel is the third studio album by American musical duo Twenty One Pilots, which was released on January 8, 2013. It is the band's first album released via Fueled by Ramen, and is their major-label debut album. As of July 2016, the album has sold over 569,000 copies.
High-school colleagues Tyler Joseph, Nick Thomas, and Chris Salih formed Twenty One Pilots in 2009. The group released their debut album Twenty One Pilots. Both Thomas and Salih parted ways with the band in 2011. Soon afterwards, Josh Dun joined the band; Joseph had been friends with Dun for around a year. Joseph first saw Dun when he was playing a show with House of Heroes. Joseph said that he "loved"the performance. The band released Regional at Best later that year. In June, the duo played their first out-of-state show to a group of 12 people. The pair soon gained popularity through a series of videos made by friend Mark C. Eshleman. The band played their last show as an unsigned band at the Newport Music Hall in Columbus, Ohio, to a crowd of 1,800 in attendance. The duo signed to Fueled by Ramen in 2012.
Vessel received positive reviews upon release. Jason Pettigrew, writing for Alternative Press, praised the album's multi-genre influence: "The major-label debut by Twenty One Pilots traipses across electropop, hip hop and classic pop music—and that's just the first song."In a more negative review, Rolling Stone's Dave DiMartino wrote: "The duo has somehow managed to take the most disagreeable and obnoxious aspects of the past decade's "rap-rock"legacy, throw in some of the most aggravating melodic aspects of Linkin Park and Blink-182, and put together a new album that will surely make you want to decry ever liking rock 'n' roll at least three times before a cock crows."
Twenty One Pilots (stylized as twenty one pilots or twenty øne piløts) is an American musical duo from Columbus, Ohio. The band was formed in 2009 by lead vocalist Tyler Joseph along with Nick Thomas and Chris Salih, who left in 2011. The current more...
Genres: Alternative Rock, International Rock, Rap Metal