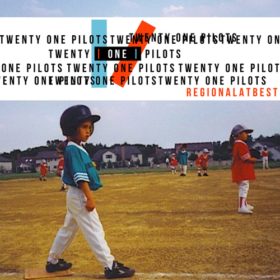 Twenty One Pilots – Regional at Best (2011)
Tracks
Description
Artist
To listen to a song, click the "Play" button.
Guns for Hands
Holding on to You
Ode to Sleep
Slowtown
Car Radio
Forest
Glowing Eyes
Kitchen Sink
Anathema
Lovely
Ruby
Trees
Be Concerned
Clear
Regional at Best is the second studio album by the American duo Twenty One Pilots. It was released free on July 8, 2011. Regional at Best is a discontinued album. It is the last album released by the band before signing a contract with the label Fueled by Ramen and the first album with Josh Dun, who joined the band in 2011 after the departure of bassist Nick Thomas and drummer Chris Salih.
The album features many tracks that also appear on Vessel, with some of them being re-recorded for the later album. As part of the band's agreement with Fueled by Ramen to release Vessel, the album was discontinued, with no copies available for sale. Only five tracks in Regional on Best have no other albums and are considered out of print.
Twenty One Pilots (stylized as twenty one pilots or twenty øne piløts) is an American musical duo from Columbus, Ohio. The band was formed in 2009 by lead vocalist Tyler Joseph along with Nick Thomas and Chris Salih, who left in 2011. The current more...
Genres: International Rock, Pop Rock, Rap Metal