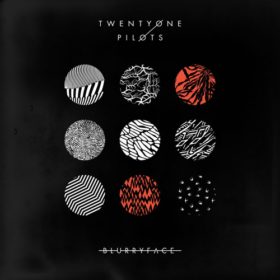 Twenty One Pilots – Blurryface (2015)
Tracks
Description
Artist
To listen to a song, click the "Play" button.
Heavydirtysoul
Stressed Out
Ride
Fairly Local
Tear In My Heart
Lane Boy
The Judge
Doubt
Polarize
We Don't Believe What's On TV
Message Man
Hometown
Not Today
Goner
Blurryface is the fourth studio album by American musical duo Twenty One Pilots, released on May 17, 2015 through Fueled by Ramen.
Like their previous album Vessel (2013), the album takes influence from various genres, including hip hop, rock, pop, reggae, and indie music. Lyrically, the album incorporates themes of mental health, doubt, and religion. It contains the successful singles "Stressed Out"and "Ride", which both reached the top-five on the Billboard Hot 100.
Blurryface was well-received by critics, who complimented its themes and musical diversity. It is considered to be the band's breakthrough album, becoming their first to reach number one on the Billboard 200. The album has sold over 1.5 million copies in the United States as of April 2017. In 2018, Blurryface became the first album in history to have every track receive at least a gold certification from the Recording Industry Association of America.
Twenty One Pilots (stylized as twenty one pilots or twenty øne piløts) is an American musical duo from Columbus, Ohio. The band was formed in 2009 by lead vocalist Tyler Joseph along with Nick Thomas and Chris Salih, who left in 2011. The current more...
Genres: Alternative Rock, International Rock