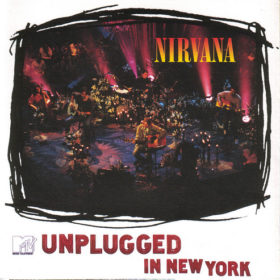 Nirvana – MTV Unplugged in New York (1994)
Tracks
Nirvana - About A Girl (MTV Unplugged)
Other videos of this song:

Nirvana - About a Girl

About A Girl (Remastered)

Nirvana - About A Girl (Live At The Paramount, Seattle / 1991)

How to Play "About a Girl" by Nirvana on Guitar - Easy Acoustic Songs

Nirvana - About a Girl + Lyrics
3
Jesus Doesn't Want Me For A Sunbeam
4
The Man Who Sold the World
14
Where Did You Sleep Last Night
About the Album
MTV Unplugged in New York is a live album by American grunge band Nirvana. It features an acoustic performance recorded at Sony Music Studios in New York City on November 18, 1993, for the television series MTV Unplugged. The show was directed by Beth McCarthy and aired on the cable television network MTV on December 16, 1993. In a break with traditional practice on the television series, Nirvana played mainly lesser-known material and cover versions of songs by the Vaselines, David Bowie, Lead Belly, and Meat Puppets, whose Cris and Curt Kirkwood joined Nirvana onstage.
MTV Unplugged in New York was the first Nirvana album released following the death of Kurt Cobain. The album debuted at number one on the Billboard 200, and is Nirvana's most successful posthumous release, having been certified 5x platinum in the United States by 1997. It also won the Grammy Award for Best Alternative Music Album in 1996. The performance was released on DVD in 2007.
Genres: International Rock, Pop Rock
Other Nirvana discography albums for download