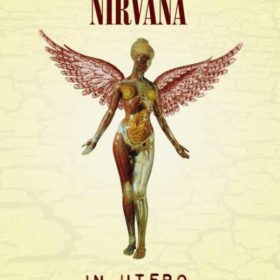 Nirvana – In Utero (1993)
Tracks
Description
Artist
To listen to a song, click the "Play" button.
Serve the Servants
Scentless Apprentice
Heart-Shaped Box
Rape Me
Frances Farmer Will Have Her Revenge on Seattle
Dumb
Very Ape
Milk It
Pennyroyal Tea
Radio Friendly Unit Shifter
Tourette's
All Apologies
In Utero is the third and final studio album by American rock band Nirvana, released on September 21, 1993, by DGC Records. Nirvana intended for the record to diverge significantly from the polished, refined production of its previous album, Nevermind (1991). To capture a more abrasive and natural sound, the group hired engineer Steve Albini to record In Utero during a two-week period in February 1993 at Pachyderm Studio in Cannon Falls, Minnesota. The music was quickly recorded within that time with few studio embellishments. The song lyrics and album packaging largely incorporated medical imagery that conveyed frontman Kurt Cobain's outlook on his publicized personal life and his band's newfound fame.
Soon after recording was completed, rumors circulated in the press that DGC might not release the album in its original state, as the record label felt that the result was not commercially viable. Although Nirvana publicly denied the statements, the band opted to remix parts of the album. Albini declined to alter the album further, and ultimately the band hired R.E.M. producer Scott Litt to make minor changes to the album's sound and remix the singles "Heart-Shaped Box" and "All Apologies".
Upon release, In Utero entered the Billboard 200 chart at number one and received critical acclaim as a drastic departure from Nevermind. The record has been certified five times platinum by the Recording Industry Association of America, and has sold 15 million copies worldwide.
Nirvana was an American rock band formed by singer and guitarist Kurt Cobain and bassist Krist Novoselic in Aberdeen, Washington, in 1987. Nirvana went through a succession of drummers, the longest-lasting being Dave Grohl, who joined in 1990. more...
Genres: Grunge, International Rock
Also download other albums from Nirvana