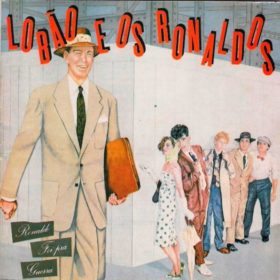 Lobão – Ronaldo Foi Pra Guerra (1984)
Tracks
Lobão - Corações Psicodélicos
Other videos of this song:

18 Lobão Corações Psicodélicos Ao Vivo

Mix - Lobão - Corações Psicodélicos

CORAÇÕES PSICODÉLICOS-LOBÃO E OS RONALDOS -VIDEO ORIGINAL-ANO 1984 ( HQ )

Roupa Nova - Corações Psicodélicos (Ao Vivo)

Corações Psicodélicos
5
Os Tipos Que Eu Não Fui
10
Teoria Da Relatividade
12
Ronaldo Foi Pra Guerra
About the Album
Ronaldo Foi pra Guerra is an album by Brazilian band Lobão e os Ronaldos, released in July 1984 by RCA Victor (current Sony Music).
This album has the song "Me Chama", which became one of the most famous songs in Brazil, being in the 47th position of the biggest Brazilian songs, according to Rolling Stone, being recorded by several artists, among them João Gilberto, Marina Lima, Nélson Gonçalves and Bikini Cavadão. Another hit song was the song "Corações Psicodélicos", recorded by other artists like Roupa Nova.
Genres: Brazilian Rock, New Wave, Pop Rock
Other Lobão discography albums for download