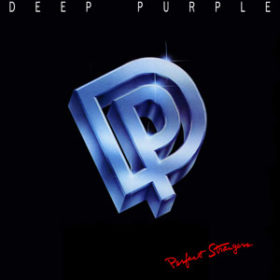 Deep Purple – Perfect Strangers (1984)
Tracks
Description
Artist
To listen to a song, click the "Play" button.
Knocking At Your Back Door
Under The Gun
Nobody's Home
Mean Streak
Perfect Strangers
A Gypsy's Kiss
Wasted Sunsets
Hungry Daze
Perfect Strangers is the eleventh studio album by the British rock band Deep Purple, released in October 1984. It represents the first (as well as the most successful) album recorded by the reformed 'Mark II' line-up.
It was the first Deep Purple studio album in nine years, and the first with the Mk II line-up in eleven years, the last being Who Do We Think We Are in 1973. Ritchie Blackmore and Roger Glover arrived from Rainbow, Ian Gillan from Black Sabbath, Jon Lord from Whitesnake, and Ian Paice from Gary Moore's backing band.
The CD and cassette versions of the album contained the extra track "Not Responsible"(one of few Deep Purple songs with profane lyrics, as the word "fucking"can be heard in the song). The album was remastered and reissued on 22 June 1999 with the bonus instrumental track "Son of Alerik". The latter had previously been available as a B-side on the single "Perfect Strangers"in 1984.
The album was a commercial success, reaching #5 in the UK charts and #17 on the Billboard 200 in the US. Perfect Strangers was only the second Deep Purple studio album to be certified platinum in the US, following 1972's Machine Head. The tour was so successful that the band had to book many additional dates to the US arena tour, as tickets sold out very quickly. Their US tour in 1985 out-grossed every artist that year except Bruce Springsteen.
Deep Purple are an English rock band formed in Hertford in 1968. The band is considered to be among the pioneers of heavy metal and modern hard rock, although their musical approach changed over the years. Originally formed as a progressive rock more...
Genres: Hard Rock, Heavy Metal, International Rock
Also download other albums from Deep Purple