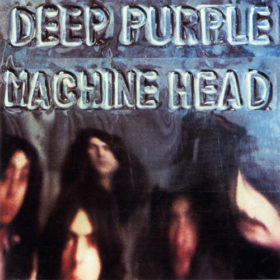 Deep Purple – Machine Head (1972)
Tracks
Description
Artist
To listen to a song, click the "Play" button.
Highway Star
Maybe I'm a Leo
Pictures of Home
Never Before
Smoke on the Water
Lazy
Space Truckin'
Machine Head is the sixth studio album released by the English rock band Deep Purple. It was recorded through December 1971 in Montreux, Switzerland, and released in March 1972.
Machine Head is often cited as a major influence in the early development of the heavy metal music genre. Commercially, it is Deep Purple's most successful album, topping the charts in several countries following its release. The album reached number 1 in the United Kingdom and stayed in the top 40 for 20 weeks. It reached number 7 in the United States, remaining on the Billboard 200 for 118 weeks.
Deep Purple are an English rock band formed in Hertford in 1968. The band is considered to be among the pioneers of heavy metal and modern hard rock, although their musical approach changed over the years. Originally formed as a progressive rock more...
Genres: Hard Rock, Heavy Metal, International Rock
Also download other albums from Deep Purple