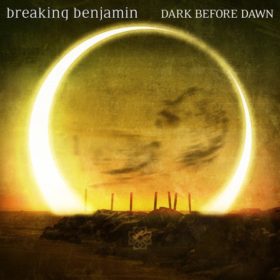 Breaking Benjamin – Dark Before Dawn (2015)
Tracks
Description
Artist
To listen to a song, click the "Play" button.
Dark
Failure
Angels Fall
Breaking the Silence
Hollow
Close to Heaven
Bury Me Alive
Never Again
The Great Divide
Ashes of Eden
Defeated
Dawn
Dark Before Dawn is the fifth album by American rock band Breaking Benjamin, released on June 23, 2015 by Hollywood Records. It is the group's first studio album following the band's hiatus lasting from early 2010 to late 2014, and the first album to feature an entirely different lineup alongside founder and frontman Benjamin Burnley. Produced and composed by Burnley, the album took shape towards the end of the hiatus and was mostly written before the new lineup "even played a single note together." The recording process took place afterwards at both a personal studio of Burnley's and at the same studio Phobia (2006) was recorded, with all of the band members performing their respective instruments, including background vocals performed by guitarist Keith Wallen and bassist Aaron Bruch, making the record their first to feature vocals other than Burnley's.
The album was a critical and commercial success. It garnered mostly positive reception, many critics praising the album for staying true to the group's established sound, although others criticized it for sounding too similar to previous material. Burnley described that he did not want to "reinvent the wheel" with the album. It debuted at No. 1 on the Billboard 200, the group's first in their catalog, earning 141,000 album-equivalent units in its first week, making it heretofore the group's most successful sales effort. The album's lead single is "Failure", which was announced alongside the album on March 18, 2015.
Breaking Benjamin is an American rock band from Wilkes-Barre, Pennsylvania, founded in 1999 by lead singer and guitarist Benjamin Burnley and drummer Jeremy Hummel. The first lineup of the band also included guitarist Aaron Fink and bassist Mark more...
Genres: Alternative Rock, International Rock