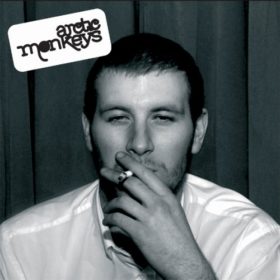 Arctic Monkeys – Whatever People Say I Am, That's What I'm Not (2006)
Tracks
Description
Artist
To listen to a song, click the "Play" button.
The View From The Afternoon
I Bet You Look Good On The Dancefloor
Fake Tales Of San Francisco
Dancing Shoes
You Probably Couldn't See For The Lights But You Were Staring Straight At Me
Still Take You Home
Riot Van
Red Light Indicates Doors Are Secured
Mardy Bum
Perhaps Vampires Is A Bit Strong But..
When The Sun Goes Down
From The Ritz To The Rubble
A Certain Romance
Whatever People Say I Am, That's What I'm Not is the debut studio album by English rock band Arctic Monkeys, released on 23 January 2006 by Domino Recording Company. The album surpassed Elastica's self-titled album to become the fastest selling debut album in British music history, shifting over 360,000 copies in its first week, and remains the fastest selling debut album by a band. It has since gone quintuple platinum in the UK. It is the only album to feature Andy Nicholson as bass player before he was replaced by Nick O'Malley.
The album includes both tracks from the band's original EP, Five Minutes with Arctic Monkeys, as well as their first two singles and UK number ones, "I Bet You Look Good on the Dancefloor"and "When the Sun Goes Down". It is often cited as one of the best rock albums of its decade. It received the 2006 Mercury Prize for Best Album, and was ranked number 371 on Rolling Stone's 500 Greatest Albums of All Time. In 2013 Rolling Stone ranked it the 30th greatest debut album of all time. In October 2013, music magazine NME also ranked the album at number 19 in their poll of the 500 greatest albums of all time. Whatever People Say I Am, That's What I'm Not has worldwide album sales of 3,390,000 million copies sold
Arctic Monkeys are an English rock band formed in 2002 in High Green, a suburb of Sheffield. The band consists of Alex Turner (lead vocals, guitar, piano), Matt Helders (drums, vocals), Jamie Cook (guitar, keyboards) and Nick O'Malley (bass guitar, more...
Genres: Indie Rock, International Rock, Post-punk
Also download other albums from Arctic Monkeys