Arctic Monkeys – Favourite Worst Nightmare (2007)
Tracks
Arctic Monkeys - Brianstorm (Official Video)
Other videos of this song:

Arctic Monkeys- Brianstorm

Arctic Monkeys - Brianstorm @ Pinkpop 2014 - HD 1080p

Arctic Monkeys: Brianstorm (Live at Lollapalooza Argentina 2019)

Arctic Monkeys - When The Sun Goes Down / Brianstorm

Brianstorm - Arctic Monkeys ( Guitar Tab Tutorial & Cover )
9
If You Were There, Beware
About the Album
Favourite Worst Nightmare is the second studio album by English rock band Arctic Monkeys, released on 18 April 2007 by Domino Recording Company. Recorded in east London's Miloco Studios with producers James Ford and Mike Crossey, the album was preceded by the release of "Brianstorm"on 16 April 2007.
In comparison to the band's debut album Whatever People Say I Am, That's What I'm Not, the album has been described as "very, very fast and very, very loud", being seen as "more ambitious, heavier…and with a fiercely bright production". Reflecting the band's travels around the world more than local stories of the first record, FWN is a "faster, meaner"album. The album arguably has influences from The Smiths – "twanging, quasi-ambient backdrops…and Turner's voice […] crooning like Morrissey or Richard Hawley." Matt Helders said "James was DJing loads in the evening so we'd go out and […] have a dance." As a result, the drum rhythms of Helders and bassist Nick O'Malley have drawn comparisons to the Eighties funk band ESG. The band's love of classic films also influences their new style. For example, the organ at the beginning of the album's final track, "505"is replicating Ennio Morricone's soundtrack for The Good, the Bad and the Ugly (where Angel Eyes enters before the final standoff).
Genres: Indie Rock, International Rock, Post-punk
About the Artist/Band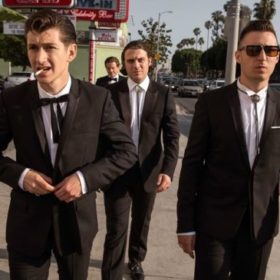 Arctic Monkeys are an English rock band formed in 2002 in High Green, a suburb of Sheffield. The band consists of Alex Turner (lead vocals, guitar, piano), Matt Helders (drums, vocals), Jamie Cook (guitar, keyboards) and Nick O'Malley (bass guitar, more...
Other Arctic Monkeys discography albums for download