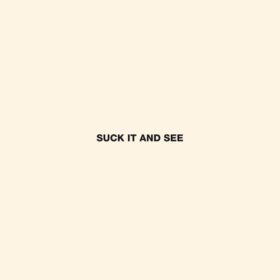 Arctic Monkeys – Suck It and See (2011)
Tracks
She's Thunderstorms - Arctic Monkeys - Suck It and See
Other videos of this song:

Arctic Monkeys - Shes Thunderstorms (lyrics)

Mix - She's Thunderstorms - Arctic Monkeys - Suck It and See

She's Thunderstorms

Arctic Monkeys - iHeartRadio - She's Thunderstorms

Arctic Monkeys - She's Thunderstorms - Glastonbury 2013 HD
4
The Hellcat Spangled Shalalala
5
Don't Sit Down 'Cause I've Moved Your Chair
12
That's Where You're Wrong
About the Album
Suck It and See is the fourth studio album by English rock band Arctic Monkeys, released on 6 June 2011 by Domino Recording Company. It was produced by the band's longtime collaborator James Ford and was recorded at Sound City Studios in Los Angeles, with Ford and drummer Matt Helders promising to deliver a more "instant", "poppy", and "vintage"sound in comparison to the band's darker, polarising previous album Humbug (2009).
Arctic Monkeys wrote the album throughout 2010, with Alex Turner writing the majority of the songs in New York, and the rest in London. Rather than repeat the heavily produced, studio production style, and darker sound of Humbug, the band's previous effort, much of the album was recorded in live takes with minimal overdubs, with producer James Ford in Los Angeles, California, over five weeks in January/February 2011. Alex Turner has commented that rather than going into the studio with only rough sketches of songs, and making heavy use of overdubbing, the band focused much of their time rehearsing written songs together, coming up with new ideas in the process.
The band settled on Suck It and See as the title after debating between titles such as The Rain-Shaped Shimmer Trap, The Thunder-Suckle Fuzz Canyon, The Blond-O-Sonic Rape Alarm, and Thriller, according to a band interview in the NME.
The track "Piledriver Waltz"was first released on Alex Turner's debut EP, Submarine, where it was credited to Turner as a solo artist, featuring Ford on drums. The version included on Suck It and See is a re-recording with the whole band involved.
Genres: Indie Rock, International Rock, Psychedelic Rock
About the Artist/Band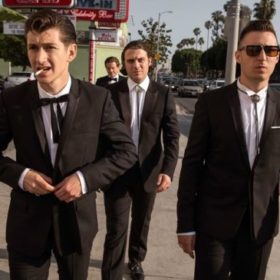 Arctic Monkeys are an English rock band formed in 2002 in High Green, a suburb of Sheffield. The band consists of Alex Turner (lead vocals, guitar, piano), Matt Helders (drums, vocals), Jamie Cook (guitar, keyboards) and Nick O'Malley (bass guitar, more...
Other Arctic Monkeys discography albums for download