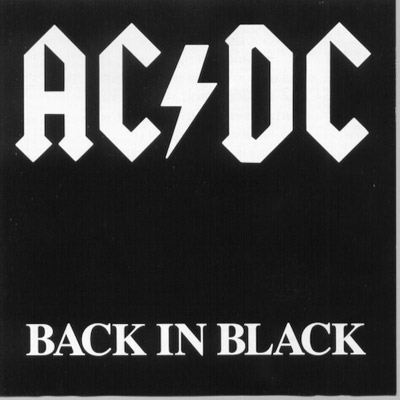 ACDC – Back in Black (1980)
Tracks
Description
Artist
To listen to a song, click the "Play" button.
Hells Bells
Shoot to Thrill
What Do You Do for Money Honey
Given the Dog a Bone
Let Me Put My Love Into You
Back in Black
You Shook Me All Night Long
Have a Drink on Me
Shake a Leg
Rock and Roll Ain't Noise Pollution
Back in Black is the seventh studio album by Australian rock band AC/DC. Produced by Robert John "Mutt"Lange, the album was released on 25 July 1980 via Albert Productions and Atlantic Records.
By the late 1970s, AC/DC began achieving significant popularity outside their native Australia, with high-energy live performances and a series of successful albums. They had previously paired with producer Lange in 1978, recording their international breakthrough hit album Highway to Hell. Back in Black was the band's first album featuring vocalist Brian Johnson, who replaced Bon Scott after the latter had died back in February of that same year, shortly before the band actually started recording the album. Instead of disbanding, the group decided to continue on with Johnson.
Back in Black was composed by Johnson, Angus and Malcolm Young, and recorded over seven weeks in the Bahamas from April to May 1980. Because the area was hit by tropical storms at the time, recording sessions became difficult on some occasions. Lange demanded perfection in the band's recordings, particularly on Johnson's vocals. Following its completion, the group mixed Back in Black at Electric Lady Studios in New York City. The album's all-black cover was designed as a "sign of mourning"for Scott.
As their sixth international studio release, Back in Black was an unprecedented success. It has sold an estimated 50 million copies worldwide. It is one of the best-selling albums in music history. The band supported the album with a yearlong world tour, cementing them among the most popular music acts of the early 1980s. The album also received positive critical reception during its initial release, and it has since been included on numerous lists of "greatest"albums. Since its original release, the album has been reissued and remastered multiple times, most recently for digital distribution.
AC/DC are an Australian rock band, formed in Sydney in 1973 by brothers Malcolm and Angus Young. A hard rock/blues rockband, their music has also been called heavy metal, although they refer to themselves as "a rock and roll band, more...
Genres: Heavy Metal, International Rock
Also download other albums from AC/DC