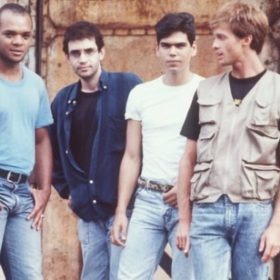 Legião Urbana
Legião Urbana (Portuguese for Urban Legion) was a Brazilian rock band formed in 1982 in Brasília, Distrito Federal. The band primarily consisted of Renato Russo (vocals, bass and keyboards), Dado Villa-Lobos (guitar) and Marcelo Bonfá (drums). In
more...
Legião Urbana (Portuguese for Urban Legion) was a Brazilian rock band formed in 1982 in Brasília, Distrito Federal. The band primarily consisted of Renato Russo (vocals, bass and keyboards), Dado Villa-Lobos (guitar) and Marcelo Bonfá (drums). In its earlier days, Legião Urbana also had a full-time bassist, Renato Rocha, but he left the band due to creative divergences.
While Legião Urbana disbanded officially in 1996, after frontman Renato Russo's death, it is one of the most famous Brazilian rock bands, alongside Os Paralamas do Sucesso, Titãs and Barão Vermelho.
Renato Russo (born Renato Manfredini, Jr.) found Legião Urbana in 1982 in Brasília, after leaving his previous band Aborto Elétrico ("Electric Abortion"). Aborto Elétrico broke up due to repeated disagreements between Russo and brothers Flávio and Fê Lemos, his bandmates. After Aborto Elétrico split and Russo created Legião Urbana, the two brothers would also go on to found Capital Inicial.
Legião Urbana was initially formed by Renato Russo (vocals and bass) Marcelo Bonfá (drums), Eduardo Paraná (guitars) and Paulo Paulista (keyboards), but Paraná and Paulista would quickly leave the band. Ico Ouro Preto replaced Paraná as the guitarist. Dado Villa-Lobos replaced Ouro Preto in 1983. In the beginning of 1984, Renato Rocha joined the group as the bass player, after Renato Russo couldn't play any instrument because of a suicide attempt that injured his wrist. Renato Russo would then focus on the vocals. He also played keyboards and acoustic guitar.
Many elements helped shape the identity of Legião Urbana. Consciously or not, Renato Russo was heavily influenced by The Smiths and U2, particularly The Smiths lead singer Morrissey, with his extremely personal lyrics and idiosyncratic on-stage performance. He was also influenced by Joy Division's Ian Curtis.
Thematically, Russo and the other members were also influenced by literature, especially that of Portuguese poet Luís de Camões, whose poetry is featured in more than one of the band's songs.
Legião Urbana's self-titled first album was recorded and released in 1985. The album included the hits "Será" ("I Wonder"), "Ainda É Cedo" ("It's Still Early") and "Geração Coca-Cola" ("Coca-Cola Generation"). The album was released on the EMI label, and the band would stay with this record label for their entire career, with both positive and negative experiences. Most of the songs on the album sounded like U2's first record Boy, also using xylophones effects and The Edge's distinctive guitar style.
Legião Urbana discography for download