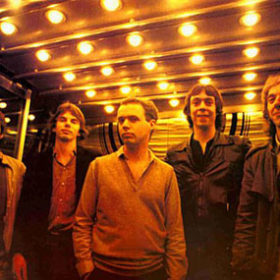 Camel
Camel are an English progressive rock band formed in 1971. Led by founder member Andrew Latimer, they have produced fourteen original studio albums, fourteen singles plus numerous other compilation and live albums. The band's music combines
more...
Camel are an English progressive rock band formed in 1971. Led by founder member Andrew Latimer, they have produced fourteen original studio albums, fourteen singles plus numerous other compilation and live albums. The band's music combines elements taken from jazz, classical and Baroque music, blues, and electronic music.
Andrew Latimer (guitar), Andy Ward (drums) and Doug Ferguson (bass) had been playing as a trio called the Brew around the Guildford, Surrey area of England. On 20 February 1971, they auditioned to be the back-up band to singer/songwriter Phillip Goodhand-Tait and released an album with him in August 1971 titled I Think I'll Write a Song on DJM Records. This would be their first and last album with Goodhand-Tait. They recruited Peter Bardens (keyboards) and after an initial gig to fulfill a Bardens commitment on 8 October 1971 in Belfast, Northern Ireland under the name of 'Peter Bardens' On', they changed their name to Camel. Their first gig was at Waltham Forest Technical College, London supporting Wishbone Ash on 4 December 1971.
In August 1972 Camel signed with MCA Records and their eponymous debut album Camel (1973) was released six months later. The record was not a success and the band moved to the Deram Records division of Decca Records (UK).
Camel discography for download