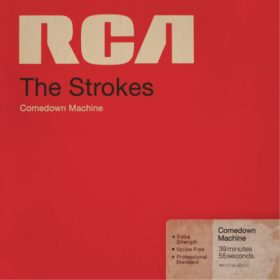 The Strokes – Comedown Machine (2013)
Tracks
Description
Artist
To listen to a song, click the "Play" button.
Tap Out
All The Time
One Way Trigger
Welcome To Japan
80's Comedown Machine
50/50
Slow Animals
Partners In Crime
Chances
Happy Ending
Call It Fate, Call It Karma
Comedown Machine is the fifth studio album by American rock band the Strokes. It was released on March 26, 2013 by RCA Records. The band decided to pull a media blackout for the album, with no promotion in the form of television appearances, interviews, photoshoots, live shows, or tours. The cover artwork was designed to resemble an old RCA tape reel box.
Comedown Machine received mostly positive reviews from critics, and was placed at number 41 on the NME's list of the "50 Best Albums of 2013".
Media response to Comedown Machine was generally favorable; the aggregating website Metacritic reports a weighted average rating of 68%, based on 44 reviews. "Whether you're in an Is This It vortex or not, this is The Strokes and they've returned with their most thought-provoking, strange and sexiest record yet,"said Kieran Mayall of Clash magazine. James Skinner of BBC Music added, "Although plenty of the group's signature sounds are present and correct, they form the backdrop to an unexpectedly wide range of styles and approaches." In contrast, Rob Sheffield of Rolling Stone questioned why the album was "an official Strokes album instead of another Casablancas solo album."
The Strokes are an American rock band from New York City. Formed in 1998, the band is composed of singer Julian Casablancas, lead guitarist Nick Valensi, rhythm guitarist Albert Hammond Jr., bassist Nikolai Fraiture, and drummer Fabrizio Moretti. more...
Genres: Alternative Rock, Indie Rock, International Rock
Also download other albums from The Strokes