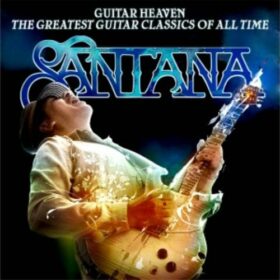 Santana – Guitar Heaven (2010)
Tracks
SANTANA .CHRIS CORNELL -WHOLE LOTTA LOVE-
Other videos of this song:

GUITAR HEAVEN: Santana & Chris Cornell do Led Zeppelin's "Whole Lotta Love"

Santana - Whole Lotta Love - Live at The O2 Dublin 2010

Mix - SANTANA .CHRIS CORNELL -WHOLE LOTTA LOVE-

Chris Cornell Whole lotta love Led Zeppelin Soundgarden Argentina

Santana - Whole Lotta Love (Feat.Chris Cornell) [Album Quality]
2
Can't You Hear Me Knocking
4
While My Guitar Gently Weeps
About the Album
Guitar Heaven: The Greatest Guitar Classics of All Time, referred to as simply Guitar Heaven, is the twenty-first studio album by Santana, released on September 21, 2010. It is a classic rock covers album and features guest performances by several popular vocalists, including India.Arie, Joe Cocker, Chris Cornell of Soundgarden & Audioslave, Scott Stapp of Creed and Art of Anarchy, Scott Weiland of Stone Temple Pilots, Velvet Revolver and Art of Anarchy, Chris Daughtry of Daughtry, Jacoby Shaddix of Papa Roach, Chester Bennington of Linkin Park, Dead By Sunrise and Stone Temple Pilots, Rob Thomas of Matchbox Twenty, Pat Monahan of Train and rapper Nas.
The album was certified gold by the Federation of the Italian Music Industry.
Genres: Blues Rock, Hard Rock, International Rock, Pop Rock
Other Santana discography albums for download