Raul Seixas – Os 24 Maiores Sucessos da Era do Rock (1973)
Tracks
Other videos of this song:

Abertura / Quando Acabar O Maluco Sou Eu

Globo de Ouro: Raul Seixas - Gita (1974)

Raul Seixas - Eu Nasci ha De Mil Anos Atrás Clip

Eu nasci a dez mil anos atrás - Raul Seixas

R.A.U.L S.E.I.X.A.S - SÓ AS MELHORES
2
Rock Around The Clock / Blue Suede Shoes / Tutti Frutti / Long Tall Sally
4
Poor Little Fool / Bernardine
5
Estúpido Cupido / Banho de Lua / Lacinhos Cor-de-Rosa
7
Diana / Little Darlin' / Oh! Carol / Runaway
8
Marcianita / É Proibido Fumar / Pega Ladrão - Medley
9
Jambalaya / Shake, Rattle And Roll / Bop-a-Lena
11
Vem Quente Que Eu Estou Fervendo
About the Album
Os 24 Maiores Sucessos da Era do Rock! (The Age of Rock's 24 Greatest Hits) is an album of late 1950s and early 1960s-era rock and roll and Jovem Guarda songs covered by Brazilian singer and guitarist Raul Seixas. The album's 1975 pressing (the first to actually credit Seixas) was retitled 20 Anos de Rock (20 years of rock).
Genres: Brazilian Rock, Rockabilly
About the Artist/Band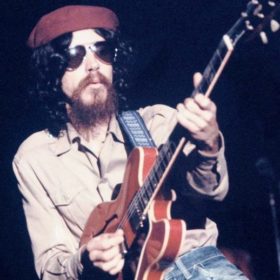 Raul Santos Seixas (28 June 1945 – 21 August 1989) was a Brazilian rock composer, singer, songwriter and producer. He is sometimes called the "Father of Brazilian Rock" and "Maluco Beleza", the last one roughly translated as "Nice Nutcase". He was more...
Other Raul Seixas discography albums for download