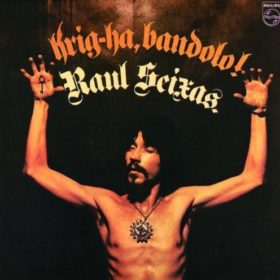 Raul Seixas – Krig-ha, Bandolo! (1973)
Tracks
Description
Artist
To listen to a song, click the "Play" button.
Introdução: Good Rockin' Tonight
Mosca Na Sopa
Metamorfose Ambulante
Dentadura Postiça
As Minas Do Rei Salomão
A Hora Do Trem Passar
Al Capone
How Could I Know
Rockixe
Cachorro - Urubu
Ouro De Tolo
Krig-ha, Bandolo! is the debut solo album of Brazilian singer Raul Seixas. It was released in 1973.
The album's title references Hal Foster's Tarzan comic strips. In the comic, "Krig-ha, Bandolo" was one of Tarzan's war cries, meaning "Watch out, the enemy's near".
The album's opening track is a recording of a 9-year-old Raul Seixas singing to Roy Brown's "Good Rockin' Tonight". It was the first album of many to feature Paulo Coelho as Raul Seixas' songwriting partner, and features some of Raul Seixas' greatest hits, such as "Mosca na Sopa", "Metamorfose Ambulante", "Al Capone" and "Ouro de Tolo".
In 2007, the Brazilian version of the magazine Rolling Stone chose Krig-ha, Bandolo! as the 12th most revolutionary Brazilian album of all time. The magazine also voted "Ouro de Tolo" and "Metamorfose Ambulante", respectively, as the 16th and the 39th greatest Brazilian songs. On September 2012, it was elected by the audience of Radio Eldorado FM, of Estadão.com e of Caderno C2+Música (both the latter belong to newspaper O Estado de S. Paulo) as the fifth best Brazilian album ever.
Raul Santos Seixas (28 June 1945 – 21 August 1989) was a Brazilian rock composer, singer, songwriter and producer. He is sometimes called the "Father of Brazilian Rock" and "Maluco Beleza", the last one roughly translated as "Nice Nutcase". He was more...
Genres: Brazilian Rock, Rockabilly
Also download other albums from Raul Seixas