Raul Seixas – Gita (1974)
Tracks
Clipe Raul Seixas - Super-Heróis
Other videos of this song:

Raul Seixas - Super-Heróis - (Com Letra Na Descrição) - 1974

Mix - Clipe Raul Seixas - Super-Heróis

RAUL SEIXAS - SUPER-HERÓIS

Super Heróis

Raul Seixas - Quando acabar o maluco sou eu!
3
As Aventuras De Raul Seixas Na Cidade De Thor
About the Album
Gita is the second solo studio album by Brazilian musician Raul Seixas. It was released in 1974, shortly after he returned to Brazil (he was exiled in the United States by orders of the military régime). Gita is one of Raul's more critically acclaimed albums, selling more than 600,000 copies and receiving a Gold Certification by ABPD.
The album shares its name with the religious Hindu epic poem Bhagavad Gita. The eponymous track also references the Bhagavad Gita heavily. It was voted by the Brazilian edition of Rolling Stone to be the 72nd greatest Brazilian song.
Genres: Brazilian Rock, Rockabilly
About the Artist/Band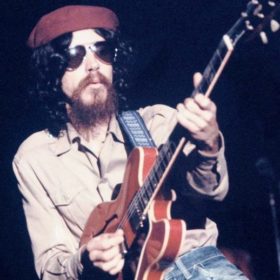 Raul Santos Seixas (28 June 1945 – 21 August 1989) was a Brazilian rock composer, singer, songwriter and producer. He is sometimes called the "Father of Brazilian Rock" and "Maluco Beleza", the last one roughly translated as "Nice Nutcase". He was more...
Other Raul Seixas discography albums for download