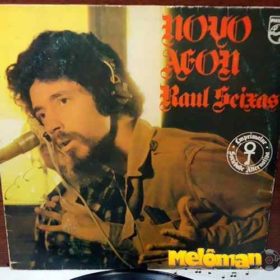 Raul Seixas – Novo Aeon (1975)
Tracks
Description
Artist
To listen to a song, click the "Play" button.
Tente Outra Vez
Rock Do Diabo
A Maçã
Eu Sou Egoísta
Caminhos
Tu és O MDC da minha vida
A Verdade Sobre A Nostalgia
Para Nóia
Peixuxa (O Amiguinho Dos Peixes)
é fim de mês
Sunseed
Caminho II
Novo Aeon
Novo Aeon (Portuguese for New Aeon) is the third studio solo album by Brazilian musician Raul Seixas. It was released in 1975. Most of this album's tracks were heavily influenced by the work of Aleister Crowley and other occultist works, with the major example being the title track. Not as successful as Raul's previous album, it was a sales' failure. However, it contains some of Raul's most famous songs, such as "Tente Outra Vez", "Rock do Diabo" and "A Maçã".
In 2007, the Brazilian version of the magazine Rolling Stone chose Novo Aeon as the 53rd most revolutionary Brazilian album of all time.
Raul Santos Seixas (28 June 1945 – 21 August 1989) was a Brazilian rock composer, singer, songwriter and producer. He is sometimes called the "Father of Brazilian Rock" and "Maluco Beleza", the last one roughly translated as "Nice Nutcase". He was more...
Genres: Brazilian Rock, Rockabilly
Also download other albums from Raul Seixas