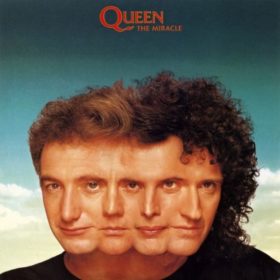 Queen – The Miracle (1989)
Tracks
Description
Artist
To listen to a song, click the "Play" button.
Party
Khashoggi's Ship
The Miracle
I Want It All
The Invisible Man
Breakthru
Rain Must Fall
Scandal
My Baby Does Me
Was It All Worth It
The Miracle is the thirteenth studio album by the British rock band Queen, released on 22 May 1989 by Parlophone Records in the United Kingdom and by Capitol Records in the United States. The album was recorded as the band recovered from Brian May's marital problems and Freddie Mercury's AIDS diagnosis in 1987 (which was known to the band, though not publicised at the time). Recording started in January 1988 and lasted for an entire year. The album was originally going to be called The Invisible Men, but three weeks before the release, according to Roger Taylor, they decided to change the name to The Miracle. It was also the last album with a band photo on the front cover.
The album reached #1 in the UK, Austria, Germany, the Netherlands, and Switzerland, and #24 on the US Billboard 200 chart. The Miracle is estimated to have sold 5 million copies, indicating that despite lower sales in the United States, the band had excellent numbers in the world, even without touring. Allmusic would name The Miracle as Queen's best album of the 1980s, along with The Game. It would prove to be the band's penultimate album to be recorded with Freddie Mercury, as he died in November 1991, less than a year after the next album, Innuendo, was released.
Queen are a British rock band that formed in London in 1970. Their classic line-up was Freddie Mercury (lead vocals, piano), Brian May (lead guitar, vocals), Roger Taylor (drums, vocals), and John Deacon (bass guitar). Queen's earliest works were more...
Genres: Hard Rock, International Rock
Also download other albums from Queen