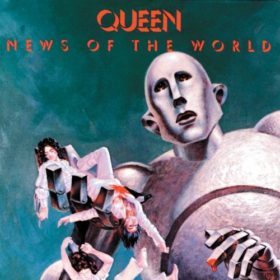 Queen – News of the World (1977)
Tracks
Description
Artist
To listen to a song, click the "Play" button.
We Will Rock You
We Are the Champions
Sheer Heart Attack
All Dead, All Dead
Spread Your Wings
Fight From The Inside
Get Down, Make Love
Sleeping On The Sidewalk
Who Needs You
It's Late
My Melancholy Blues
News of the World is the sixth studio album by the British rock band Queen, released on 28 October 1977 by EMI Records in the United Kingdom and by Elektra Records in the United States. News of the World was the band's second album to be recorded at Sarm West and Wessex Studios, London, and engineered by Mike Stone, and was co-produced by the band and Stone.
In 1977, punk rock acts, most notably the Sex Pistols, sparked massive backlash towards progressive rock artists such as Queen, to which the band responded by simplifying their symphonic rock sound and gearing towards a more spontaneous hard rock sound. The album subsequently went 4x platinum in the United States, and achieved high certifications around the world, selling over 10 million copies and became the band's bestselling studio album to date.
Queen are a British rock band that formed in London in 1970. Their classic line-up was Freddie Mercury (lead vocals, piano), Brian May (lead guitar, vocals), Roger Taylor (drums, vocals), and John Deacon (bass guitar). Queen's earliest works were more...
Genres: Hard Rock, International Rock
Also download other albums from Queen