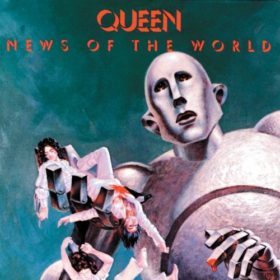 Queen – News of the World (1977)
Tracks
Queen - We Will Rock You (Official Video)
Other videos of this song:

WE WILL ROCK YOU - QUEEN ROCK MONTREAL 1981

Queen - We Will Rock You Live at Wembley Stadium 1986[HQ Sound] Lyrics

Queen- We will rock you con letra

Queen - Rock Montreal

We will rock you 10 hours
8
Sleeping On The Sidewalk
About the Album
News of the World is the sixth studio album by the British rock band Queen, released on 28 October 1977 by EMI Records in the United Kingdom and by Elektra Records in the United States. News of the World was the band's second album to be recorded at Sarm West and Wessex Studios, London, and engineered by Mike Stone, and was co-produced by the band and Stone.
In 1977, punk rock acts, most notably the Sex Pistols, sparked massive backlash towards progressive rock artists such as Queen, to which the band responded by simplifying their symphonic rock sound and gearing towards a more spontaneous hard rock sound. The album subsequently went 4x platinum in the United States, and achieved high certifications around the world, selling over 10 million copies and became the band's bestselling studio album to date.
Genres: Hard Rock, International Rock
Other Queen discography albums for download