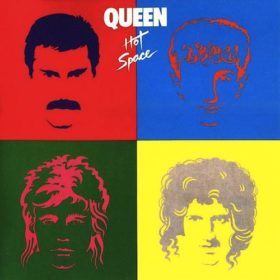 Queen – Hot Space (1982)
Tracks
Queen - Staying Power (Official Lyric Video)
Other videos of this song:

Queen - Staying Power (Live at Milton Keynes Bowl, 1982)

Mix - Queen - Staying Power (Official Lyric Video)

Queen - Staying Power

Queen - Staying Power (Live at the Bowl 1982)

Nuno Bettencourt, Gary Cherone & Guests: "Staying Power" (Queen Cover at Soundcheck Live)
7
Life Is Real (Song For Lennon)
9
Las Palabras De Amor (The Words Of Love)
About the Album
Hot Space is the tenth studio album by the British rock band Queen. It was released on 21 May 1982 by EMI Records in the UK and by Elektra Records in the US. Marking a notable shift in direction from their earlier work, they employed many elements of disco, funk, rhythm and blues, dance and pop music on the album. This made the album less popular with fans who preferred the traditional rock style they had come to associate with the band. Queen's decision to record a dance-oriented album germinated with the massive success in the US of their 1980 hit "Another One Bites the Dust" (and to a lesser extent, the UK success of the song).
"Under Pressure", Queen's collaboration with David Bowie, was released in 1981 and became the band's second #1 hit in the UK. Though included on Hot Space, the song was a separate project and was recorded ahead of the album, before the controversy over Queen's new disco-influenced rock sound. The album's second single, "Body Language", peaked at #11 on the US charts.
Most of the album was recorded in Munich during the most turbulent period in the band's history, and Brian May and Roger Taylor despised the new sound, with both being very critical of the influence Freddie Mercury's manager Paul Prenter had on the singer. Estimated sales of the album currently stand at 3.5 million copies. In July 2004, Q magazine listed Hot Space as one of the top fifteen albums where great rock acts lost the plot.
Genres: Hard Rock, International Rock
Other Queen discography albums for download