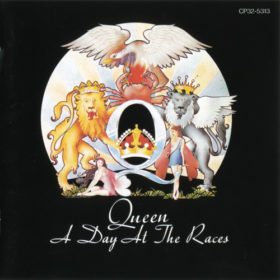 Queen – A Day at the Races (1976)
Tracks
Description
Artist
To listen to a song, click the "Play" button.
Tie Your Mother Down
You Take My Breath Away
Long Away
The Millionaire Waltz
You and I
Somebody to Love
White Man
Good Old-Fashioned Lover Boy
Drowse
Teo Torriatte
A Day at the Races is the fifth studio album by the British rock band Queen, released on 10 December 1976 by EMI Records in the United Kingdom and by Elektra Records in the United States. It was the band's first completely self-produced album, and the first not to feature producer Roy Thomas Baker. Recorded at Sarm East, The Manor and Wessex Studios in England, A Day at the Races was engineered by Mike Stone. The album serves as a companion album to the band's previous album, A Night at the Opera, both taking their names from Marx Brothers films, as well as sharing similar packaging and eclectic musical themes.
The album peaked at #1 in the UK, Japan and the Netherlands. It reached #5 on the US Billboard 200 and was Queen's fifth album to ship gold in the US, and subsequently reached platinum status in the same country. A Day at the Races was voted the 67th greatest album of all time in a national 2006 BBC poll.
Queen are a British rock band that formed in London in 1970. Their classic line-up was Freddie Mercury (lead vocals, piano), Brian May (lead guitar, vocals), Roger Taylor (drums, vocals), and John Deacon (bass guitar). Queen's earliest works were more...
Genres: Hard Rock, International Rock
Also download other albums from Queen