Detonautas – Detonautas Roque Clube EP (2011)
Tracks
Detonautas - Um Cara de Sorte
Other videos of this song:

Detonautas Roque Clube - Um cara de sorte - CLIPE OFICIAL

Detonautas Roque Clube - Um Cara de Sorte (Ao Vivo no Rock in Rio)

Mix - Detonautas - Um Cara de Sorte

Detonautas - Um cara de Sorte (com letra)

Um Cara de Sorte, Detonautas, Rock IN Rio 2011.
4
Conversando Com O Espelho
5
Sua Alma Vai Vagar Por Aí!
About the Album
Detonautas Roque Clube EP is the first EP of the band Detonautas Roque Clube, released in November 2011. Now independent, the band bet on a new type of spreading of their songs. In June 2011, the band released a rendition of the hit "Back In Black" by the Australian band AC/DC with lyrics criticizing behavior and musical taste of young people. The music became viral and the responses to the provocative verses were quite varied. The band then committed to releasing a new song every month, in order to win a larger audience.
Genres: Alternative Rock, Brazilian Rock, Pop Rock
About the Artist/Band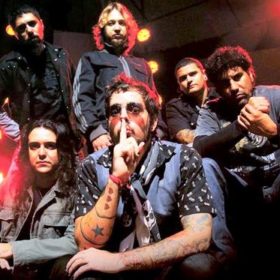 Detonautas Roque Clube is a Brazilian rock band from Rio de Janeiro. Usually the lyrics of their songs relate to violence, political corruption and love. The history of Detonautas is mixed with the onset of the fever of Internet in Brazil. In 1997, more...
Other Detonautas discography albums for download