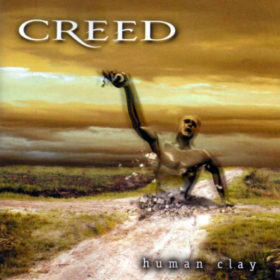 Creed – Human Clay (1999)
Tracks
Description
Artist
To listen to a song, click the "Play" button.
Are You Ready
What If
Beautiful
Say I
Wrong Way
Faceless Man
Never Die
With Arms Wide Open
Higher
Wash Away Those Years
Inside Us All
Young Grow Old
To Whom It May Concern
Human Clay is the second studio album by American rock band Creed, released on September 28, 1999 through Wind-up Records. It was the band's final album to feature Brian Marshall, who had left the band in August 2000, until 2009's Full Circle. The album has sold over 11.5 million copies in the U.S alone and over 20 million worldwide, making it the best selling album of Creed's career and one of the best-selling albums in the United States.
Creed was an American rock band formed in 1993 in Tallahassee, Florida. The band's best-known line-up consists of lead vocalist Scott Stapp, guitarist and vocalist Mark Tremonti, bassist Brian Marshall, and drummer Scott Phillips. Creed more...
Genres: International Rock, Post-Grunge
Also download other albums from Creed